We are a participant in the Amazon Services LLC Associates Program, an affiliate advertising program designed to provide a means for us to earn fees by linking to Amazon.com and affiliated sites.
7 Sublimation Printer TroubleShooting Tips
Epson Sublimation Printer Not Working?
If your Epson Sublimation Printer isn't working, I want to say, keep trying to fix it. Sometimes it takes over 24 hours to make it work correctly, but persistence is key. For the skimmers here, the directions are on the graphic below. If you need step-by-step directions, you need to keep scrolling as I walk you through each step.
Is the Printer Brand New?
Let's start at the very beginning. Is the printer brand new? Yes- Let it set for 24 hours (out of the box set up), then try printing again. I'm not sure why it takes awhile, but sometimes it does. If your Sublimation Epson Printer isn't new, continue on.
Check Your Printer Settings
Task 1- Check your settings on your printer and double check your printer is set to best quality and your high speed printing is off. Open your printer settings, click general. Then click preferences, you should see the following:
Change the document type to High Quality, and the quality to High (by using the arrow I pointed to.) Then hit apply, as well as okay.
After you have adjusted your print settings, you should try to print your design again. If you are still having issues, you can head to Task 2.
Check Your Paper Settings
Task 2 is changing your paper type to matte paper settings, open your printer settings again and this time change your paper settings.
Paper Type- Premium Presentation Paper Matte, Quality High. Then hit apply, and ok. You are ready to test print again. Hopefully, that fixes any issue you are having, but if not continue to Task 3.
Align Your Print Heads
Task 3 is to run the print head alignment, then try printing again, continue below if there is still an issue. To align your print heads, go to maintenance, click it.
Once the Maintenance folder is open, you should see the following:
Then, follow the on screen prompts after you start the Print Head Nozzle Check. Now, hopefully this has fixed your issue, but if not you can go onto Task 4.
Print the Print Purge File
Sometimes we just have to print, print, print and print again to get the ink moving like it should. Download and print the Print Purge File 5 times, then print a design to see if that worked. If that didn't work continue to Task 6, but hopefully Task 5 fixed your Epson Sublimation Printing Mistakes for you.
Clean the Print Heads
Task 6 is to clean the print head and/or power flush the lines. But remember this could take several cycles to get a good print. The key is to keep printing, printing, printing to get the ink moving again. You can go back to task 5 if needed. Congratulations! You should be ready to print!
By now you should be able to print correctly. If not email me at admin@creativedye.com for more steps!
Sublimation Not Transferring?
If your Sublimation is not transferring, it could be a simple fix.
First, check your temperature and ensure you use the correct temperature for your blank/substrate.
Are you properly placing your print correctly? Placing your print correctly and taping it down is crucial in the Sublimation Process.
Color Management Your color profile could also be wrong. Check this post for tips on how to fix it.
You can generally fix these issues by cleaning your equipment or doing the above steps. However, if that still doesn't fix it, email me at admin@creativedye.com for help.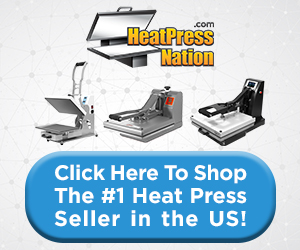 Posts coming soon!
How to Unclog Sublimation Printer
How to Fix Sublimation Mistakes