Affiliate Disclosure: We work with a variety of different affiliate companies. We will receive a small compensation if you purchase from one of our affiliate links. This will not affect the price of your item(s). As an Amazon Associate, I earn from qualifying purchases. If you would like more information, please check out our Disclosure Policy.
How to Make Sublimation Ink Brighter
We have talked about sublimation ink, sublimation paper, the sublimation process, and lots of other things items related to Sublimation. Today though we will talk about one of the questions I get asked the most. Which is How To Make Sublimation Ink Brighter? So today, we will talk about the best printer settings, ink settings, ICC Color profiles, color management, and much more.
But I want to first off by reminding you that before you press your sublimation prints, the colors will be muted. So I suggest pressing them on a piece of polyester material or polyester fabric to check your colors. But if you are getting off colors, there are things to do so we can fix them.
Advanced tips for Making Sublimation Ink Brighter
The first thing I want you to check and double-check is that you have high-speed quality checked off when you print.
The quickest way to do that is to open your sublimation software of choice and open any design you need to print. Then, check to ensure you have mirrored the image (if applicable) and high-speed printing is turned off.
Always choose high-quality print. ALWAYS.
Have you made sure you have the correct ICC profile installed for YOUR PRINTER?
Change paper type and weight (Be sure you match your sublimation paper to your printer settings.)
Are your ink cartridges full?
Do the photo printing option; sometimes that helps, while other times it doesn't.
The colors become lighter and less vibrant the closer your cartridges are to empty. Which uses lasts a long time once full.
If your ink has settled from not being used, you will just have to do some maintenance steps to get your print quality back up to its best.
Print Head Alignment
If you have made it to here, and the colors still aren't popping as they should, it is time to do a print head alignment. Now, print out another sublimation print and see if there is an improvement.
RUN 5 (see image).
Run a nozzle check and print purge files if there are lines in your sublimation prints.
Deep cleaning print heads and flushing lines is only advisable if you have exhausted all other options.
Do Test Prints
Do test prints. Then press the test prints on your polyester material, so you can tell you are making progress on correcting your colors.
Are you using a high-quality image?
Using low-resolution photos make Sublimation next to impossible. PNG or SVG is the best quality to use. Learn acronyms and more in our Sublimation Glossary.
Are you using the correct temperature settings?
Sublimation Ink will perfectly sublimate when the proper heat temperature is applied. Grab our Time and Temperature chart .
Practice, practice, practice. Use that polyester material to test different temperatures and settings to make your colors more vibrant. If it's a lower count polyester count t-shirt, try a higher polyester count. I use a minimum of 65 % polyester for best results.
Common issues with colors
Moisture issues-pre-press as needed; I pre-press all fabrics and roll them with a lint roller to keep from getting blue specks.
Quit using a Teflon sheet; they will trap moisture in your sublimation projects. Which could then cause bleeding, running, ghosting and host of other issues.
Dull sublimations-check your temperatures and the quality of sublimation prints. Then, adjust and try again.
Is there ink missing? Then your sublimation prints aren't printing at the highest quality, or you aren't using sublimation ink. The later might not be your fault, companies accidently send the wrong items all of the time.
Sublimation Ink Smearing? Make sure your print is dry prior to pressing, ensure you are pre-pressing to get out any moisture. Double check to make sure you have installed Sublimation Ink.
Are you getting banding? What can I do to fix banding?
1. Run a nozzle check to identify problem colors.
2. Top off ink and run head cleanings.
3. Print purge files. *lINK
4. Change paper type and quality.
5. Increase temperature and humidity.
Do you have ghosting or gassing out?
Did you secure your design with heat-resistant tape before pressing. Gassing out is caused by paper shifting or the blank itself moving. Always secure with heat-resistant tape.
Do you have blue specks on your projects?
It is lint that the naked eye can't see; even if you don't see it, run a lint roller over your substrate before pressing.
Are you getting transfer lines?
Cut around the design with scissors and don't make the edges "hard" like a square. Sometimes tearing the edges also helps cut down on transfer lights. But, if you already do that and still get lines, you should lighten the pressure and start a new project print with a higher-quality print.
Have you checked your input and output colors?
Colors on the computer screen, the printed sublimation print, and the pressed print will all show different "colors."
Double check to ensure you are using the correct color profile for your sublimation printer to help you get the bright colors you want. Sublimation colors and different color combinations of the substrates (blanks) affect the final products.
Are you using polyester materials? Do they have a polyester coating on them?
Double check your order and check with the manufacturer of said product. Sometimes packaging mistakes happen, and the wrong product is sent by accident.
Are you printing on the correct side of the paper?
Always print on the bright white side because printing on the wrong side of the paper will affect your finished products.
Are you using high-quality sublimation blanks?
Quality matters, and you always get what you pay for. My favorite source for sublimation blanks is Conde because they have an unbeatable selection.
Why is my Sublimation Ink Dull?
The sublimation ink always looks dull before it is pressed.
What is Sublimation?
The process of Sublimation Printing includes some specialized equipment that is often converted to the use of sublimation ink onto a specific type of paper. The definition of Sublimation is when a solid material turns into a gas without going through a liquid stage.
YRYM HT White Kraft Butcher Paper Roll -18 inch x 2100 inch (176 ft) Food Grade White Wrapping Paper...
Tape Dispenser, Heat Press Tape Dispenser, Desk Heat Tape Dispenser 6.3 x 2.5 x 3.4 Inch, Holder...
Sopito Heat Resistant Gloves with Silicone Bumps, 2Pcs Professional Heat Proof Glove Mitts for Hair...
YRYM HT White Kraft Butcher Paper Roll -18 inch x 2100 inch (176 ft) Food Grade White Wrapping Paper...
Tape Dispenser, Heat Press Tape Dispenser, Desk Heat Tape Dispenser 6.3 x 2.5 x 3.4 Inch, Holder...
Last update on 2023-05-23 / Affiliate links / Images from Amazon Product Advertising API
What do I Need to do Sublimation? The answers are here:
Some products you will need include transfer paper, butcher paper, a special type of ink called sublimation ink, or an already printed image. The quality of products you invest in makes a massive difference in your finished sublimation projects. Check out this list for a complete list of items needed for the Sublimation process.
Sublimation is a fun and easy crafting technique that results in vibrant full-color finished products. Just remember, it does not work on dark colors or cotton materials.
Sublimation Sprays
If you have decided that you will be sublimating on 100% cotton, there are products you can use. However, risks are involved, and nothing is guaranteed to be permanent. Some brands are Spray Bright and Subli-Mate (the one I use but not often.) DIY-Game Sublimation Coating, but that is just a few of them.
Spray Bright, and other brands make it so that the spray bonds with fibers in shirts which then allows the ink to bond with the threads as it does with polyester materials. There are even new concentrate sizes available for some brands.
*Sometimes, the sprays and inks will still even wash out, so proceed cautiously if you decide to sell these products. Also, this sublimation type is only guaranteed to remain if you use a high polyester count fabric.
Does Cricut Make Sublimation Items?
Cricut Infusible Ink is a sublimation type because it is a pre-printed sublimation transfer paper. The Cricut Mug press can be used for Sublimation but doesn't work with anything other than mugs. Cricut design space can also be used for Sublimation Printing, but isn't the only software choice.
Heat presses
There are lots of heat presses that you can purchase for Sublimation Printing. However, remember quality over quantity wins every single time. I bought one from Amazon; it was the worst heat press ever. However, once I switched to my HeatPress Nation 16 x24, my Sublimation colors and presses, along with beautiful sublimation prints has, brought my sublimation colors to a new vivid level.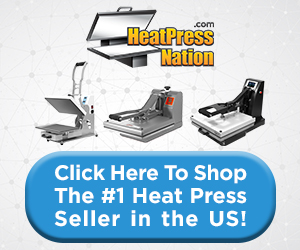 There are different types of Heat Presses including, swing away, clam shell, 7-in-1's, 5-in-1's, tumbler presses, hat presses and more. We discuss all things Heat Presses in this post.
What can I make with Sublimation?
There are lots of Sublimation blanks. Some include tote bags, coffee cups, sublimation tumblers, t-shirts, kitchen towels, keychains, car coasters, coasters, jar openers, and hundreds of other products. Plus, with the endless sublimation designs available, the amount of sublimation projects you can make is limitless.
Can I use Heat Transfer Vinyl for Sublimation?
Because Sublimation works on polyester, if you apply heat transfer vinyl, then layer your sublimation print, it can be done. This allows you to sublimate on dark colors differently.
Options of Heat Transfer Vinyl include: EasySubli, Sister Mystic White, glitter HTV, SubliSparkle and flocked HTV. Heat Transfer Vinyl is commonly called HTV, regardless of the brand.
Clear Dye Sub works well for cotton products but can still only be used on light background items or lighter colored fabrics, including tote bags, shirts, etc. Double check to see if your mirroring is on as needed.
Press the vinyl pieces first to your blank and then sublimate second because the vinyl should be done at a lower temperature. Remember to lint roll and pre-press shirts to remove any moisture, dirt, or debris. 315-320 degrees Fahrenheit for five seconds (and peel cold) is a good starting point, but no more than 15 seconds. *But check with the manufacturer of the HTV to get the best temperatures and times for that specific brand.
Quality Sublimation Products
The excellent news is that dye sublimation printing will produce high-quality prints if your print settings are set correctly. To ensure your color management settings are correct from the get-go, make sure you buy a high-quality sublimation dye, ink cartridges or eco tank systems, high-quality paper sublimation paper, and the best sublimation printer for you, whether it be an Epson printer or a Sawgrass printer.
Type of Printers
The type of printer you decide on will also dictate the best sublimation printer settings for you. Most Sublimation printers are CMYK printers CMYK- Cyan, Magenta, Yellow, Key (black).
How do I make Sublimation Ink Show Vibrant Colors?
For those of you like me, that need a step by step, this is the section for you. We will discuss how to get your sublimation ink colors to pop below. Grab the Sublimation Color Chart so you can track your colors and practice on a piece of polyester material.
How to Make Sublimation Ink Brighter
Are you wondering How to Make Sublimation Ink Brighter? I was to for a long time, but when I switched heat presses it made a HUGE difference. But if you aren't ready for a new press try these easier fixes first. Are you using a high quality sublimation ink and sublimation paper? Are you using the setting "high" quality when printing? Still having issues? Hire me to help you fix your Sublimation Ink issues.
Follow these steps, and the colors will be stunning, vibrant, and bright every time.
Use high-quality Sublimation ink. I use Sub-zone ink (link others)
Buy High-Quality Sublimation Paper, ex. A-Sub Sublimation paper and purchase at least 120 g 125 g has a few more black tracks on it sometimes, but 120g has worked great for me. But use all of the brands of sublimation paper you have on hand, then switch brands.
Buy a Sublimation Printer that is designed for sublimation printing. Ex.—
Open your design in the software of your choice and then the design file. Print when you are ready.
Choose the printer of your choice, ex. WF-7720 is the one I would pick for Sublimation printing.
Check your preferences, print in landscape or portrait (depending on your design image).
Only print on one side of the paper; choose high-quality print and select the correct paper match.
*Make sure bleed is off if printing in Cricut Design space.
Mirror image if it has words- then Print-Let dry…then press
*IF there are imperfections on the print itself, those imperfections will show on the sublimation blank. Make sure it's a high-quality print to achieve the best results.
Do a side-by-side comparison to ensure you are making your prints better.
Use the lint roller before pre-pressing on all fabrics. Place butcher paper under your blank, in the middle of your shirts, and over the Sublimation blank to protect your heat press and finished product.
The finished product will be a direct result of using the correct print settings, a special ink, special sublimation paper, following the sublimation printing process, and quality blanks.
Remember, high heat temperatures are what make the final step of the dye-sublimation printing magic happen. The final product will speak volumes for your small business success as you master the skill of Sublimation and correct printer settings.
Getting started in Sublimation Printing takes a lot of time and effort. However, with the following products you will be able to learn more about Sublimation and get organized at the same time. From time to temperature charts, to pricing your products. We have you covered!
A Beginner's Guide to Sublimation -Pick up a copy of the Sublimation Book A Beginner's Guide to Sublimation for only $14.99 for a limited time.
Blank Time and Temperature Chart -Designed for you to keep track of times and temperatures for your heat press
Time and Temperature Chart -Extensive Time and Temperature Chart with over 100 items listed.
Sublimation Color Chart-PDF download of a Sublimation Color Chart
Sublimation Glossary -Covers all of the terms and acronyms used in Sublimation.
The Sublimation 101 Guide Book is the ultimate resource to get you started on your Sublimation Journey.
Sublimation Pricing Calculator -Takes the guessing out of pricing your finished products and calculates it all for you.
Sublimation Product Care Cards– Easy to print care cards to give to your customers so they know how to care for their products.
Sublimation Management System -This binder system includes 20+ pages to download and print out to help keep you organized. The Sublimation Management System is a binder is a download that you can track things in, ex. free font sites, favorite fonts, favorite font pairings, sublimation printer settings, Order tracking sheet and many other pages. I took my system and adapted it for others to implement.
Sublimation Business Plan PDF-The Sublimation Business Plan is essentially a Business Plan that you can fill out to take to the bank to borrow money and or plan your business. Included in that is 15 pages with things such as Executive Summary, products you will sell, Tag lines and so forth. It has a page that includes everything you should list, then a blank one for you to fill out.
1 on 1 Time
If you are stuck and need help, book me to help get you unstuck. 30 minute blocks only, scheduled to fit both of our schedules. Only 5 Spots a month are available so book today!
​
Is normal copy paper used in Sublimation?
No, normal copy paper shouldn't be used in the sublimation process as it is better suited for inkjet printers. Hence it is also called inkjet paper. Instead, a high-quality sublimation paper such as A-Sub Sublimation Paper will yield the best results.
Sublimation Ink Not Transferring?