We are a participant in the Amazon Services LLC Associates Program, an affiliate advertising program designed to provide a means for us to earn fees by linking to Amazon.com and affiliated sites.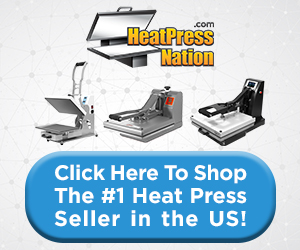 Sublimation Ink Not Transferring?
If your Sublimation Ink isn't transferring or printing on the substrate it can be several issues. We will cover all of them below, but if you want the quick and simple answer.
Your ink is NOT sublimation ink, or your temp isn't hot enough to transfer the image. But that's the "skimmers" version. Keep going if you still need help.
No Image After Pressing Sublimation Ink
If there is no image, it's most likely your ink. Did you use the ink that came with the printer? Or did you order Sublimation Ink? They are NOT the same thing. Have you flushed out ALL of the old ink that was in the printer?
Some of the ink manufacturers produce regular ink and sublimation ink. Be sure that you put Sublimation Ink and Sublimation Paper into the printer. Want an easy way to check? Take your finger and smear some ink on the sublimation paper. Then, press it. If you get no print or just a yellow print, then the ink is NOT sublimation ink. (You might be able to get a refund for your purchase price if you were sent regular ink instead of sublimation ink.)
Need help with time and temperature for your Sublimation items? You are in the right place, grab the Time and Temperature Chart today! Can I use any image for Sublimation? Where do I find the RIGHT Images for Sublimation?
** If you think you have Sublimation Ink, double-check. It's not the first time Amazon has sent the wrong type of ink.
If it is your ink, then you have two choices.
1) leave the new printer as is and use it for regular printing or
2) drain the ink out and replace it with sublimation ink. It's tedious but not complicated. Use a syringe to help you.

I made the same mistake. Now I have 2 Epson printers, but that's ok. You can use that printer for other projects such as labels, business cards, or invitations. If you decide to go another route, you can even convert a printer back to a regular printer after using it as a sub printer.
Images Still Not Pressing?
Sure it's not your ink?? It's time to move on to the paper. Are you using paper designed for Sublimation Printing? I'm giving A-Sub paper a try, but have used Printer Jack's Sublimation Paper and Ink, and it works just as great, I promise!

Are you printing on the correct side of the paper? The Sublimation ink needs to be on the paper's more "white" side.
What was the Color of the Substrate?
Some colors don't work well with Sublimation, think of Sublimation as a tattoo on the skin, it is permanent, but it depends on the color of the polyester.
Why did my Sublimation Print not work?
Positive the issue isn't with your Sublimation Ink, Sublimation Paper, or even the Substrate? Then, it's time to look at your Heat Press.
Do you have the correct time, temperature, and pressure for the blank?
Are you sure that the heat press is actually at that set temperature? Verify it with a temperature testing device. Like this one from Amazon, but if you have a Harbor Freight store near you, they have them cheaper.

Press with Firm Pressure in most cases, but I'm working on a chart to help you with pressure, time, and temperatures for substrates.
Sublimation Ink NOT Transferring to Shirt
Check the above-known issues.
Sublimation Ink not Transferring Yellow
You probably have a clogged print head, print some random pictures and do some print purge files. It will eventually get moving again. Still having an issue? Need 1 on 1 help? Hire me to help.

Sublimation requires a pretty "firm" press. Ensure that your sublimation paper (image) is taped down, with the image facing the substrate, using heat-safe tape. If the paper shifts or isn't attached well against the substrate, then you could have ghosting or "gassing" out.
Does sublimation ink need to be dry before printing?
Please make sure your sublimation print is 100% dry before pressing it. I put mine under the heat press and print side up to "dry" faster. While that isn't always the "best" answer, it works for me.
Color Correction Settings
Did you set up the "color correction" that goes with your printer? You have to use the appropriate color correction software and or settings for your printer.
Did these solutions help fix your Sublimation Ink Not Transferring? Leave us a comment or email us at admin@creativedye.com for more help.
Don't forget to check out the Sublimation FAQ.
Popular Posts on Creative Dye
Sublimation Sizing and Placement Chart
No Pressing Pillow, No Problem!
What is the Best Sublimation Printer?
6 Materials that are used for Blowout Paper
How to Figure Sublimation Costs– Sublimation Calculator
Sublimation Ink Not Transferring
How to NOT Get Images for Sublimation
Where to Find The Right Images for Sublimation
Why isn't my image transferring? No image at all, not even a little bit.
Why is my sublimation not transferring?
Sublimation Ink Not Transferring to Mug?