We are a participant in the Amazon Services LLC Associates Program, an affiliate advertising program designed to provide a means for us to earn fees by linking to Amazon.com and affiliated sites.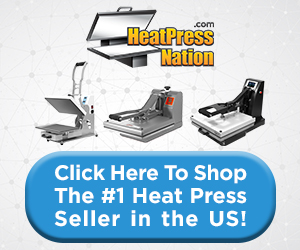 How does Sublimation Printing Work?
The process of Sublimation Printing includes some specialized equipment that is often converted to the use of sublimation ink onto a specific type of paper. The definition of Sublimation is when a solid material turns into a gas without going through a liquid stage.
No products found.
What is Sublimation?
Put merely, Sublimation Printing is the artwork being transferred to an object in the form of gas by using heat. The sublimation ink is printed using a sublimation printer paper and then allowed to dry. After it dries (which takes very little time), you apply it to your project using a heat press.
The image is printed (infused) onto the printing paper, leaving very little mess and making it easy to do dye sublimation printing. The transfer of the image happens when you add heat to the article to an object. Use a piece of Butcher Paper or parchment paper on top of the sublimation paper to protect your project and heat press.
What products can you Sublimate on?
When it comes to Sublimation, you can print lots of graphics on clothing, signs, home décor, coasters, mugs, keyrings, license plates, acrylics, and more!
Remember that your cloth products need to contain at least 50% Polyester to adhere to the article. The more Polyester, the better. However, anything over 60% poly will give you a beautiful deep color. The best solution is to use 100% Polyester shirts, which can be found online and in your local stores.

Rule of Thumb: if it's 65/35, the shirt will hold 65% of its color. Because the 65% is Polyester where as 35% is cotton.
Here are some great products that I recommend you purchase when you are ready to get started on your Sublimation Journey!
What is the best t-shirt to Sublimate Print On?
100% Polyester is BEST! Want a cotton feel and look? Check out Jerzees 21 M
The Heather Softsyle color only in (Gildan Softstyle) is 65% Polyester and 35 percent cotton, so they "sub" and bleach beautifully. (More on the bleaching later).
Where do I purchase polyester shirts for sublimation?
Gildan 460 is another brand of t-shirt that works well for sublimation printing. I order a lot of shirts from Jiffy Shirts and have always had great customer service from them. Plus they arrive relatively quickly but have heard that depends on where you live. Don't want to shop at Jiffy Shirts?
Then check out these suppliers.
These are my top picks for ordering after I've checked the stock at Jiffy Shirts.
Last update on 2021-12-03 / Affiliate links / Images from Amazon Product Advertising API
Remember sublimation ink becomes a part of the fabric and there isn't any distinction or different feel between the dye and the shirt. Unlike Iron on and vinyl products.
Can I Sublimate on a Dark Colored Shirt?
The short answer is YES and NO. Why?? Because it requires a different step and is not truly just Sublimatoin Printing. For you to sublimate on a darker colored shirt, you must have a glitter vinyl background, then continue your Sublimation Process. *More on this topic later.
How do I get my shirt ready for Sublimation?
Print your design- remember that Sublimation Ink is HEAT activated, so the colors on the paper will never be what they are when they are finished. Remember to flip the image, so it's not backward on your item.
Use a lint roller to get the lint off of the shirt before pressing. If you don't, you could get little blue "specks" of ink that will not come off after pressing. I suggest rolling your shirt 2 or 3 times before pressing to achieve the best press.
Shirts have moisture in them, so it is best to pre-press them before trying to Sublimate your Artwork to them.
Wait at least 10 minutes before pressings so ensure the best results.
Press your item at 400 degrees for 60 seconds. When finished, you are ready to shake out your shirt. Then, run a lint roller over your shirt again to help get rid of the pressed "square" that is there from pressing your design onto your shirt.
Stay tuned for more great posts like this one. Here is just a few that I have in the works!
What is Sublimation Printing?
Can Sublimation Printing be done on cotton?
Yes and no. If you use Easy Subli it will adhere to that surface, and then can be placed onto a cotton shirt. The other thing I've seen people use is Dye press Poly-Tee Spray. However, I stick to just polyester substrates.
Packaging Supplies are essential when it comes to shipping your products. But we all know that we can't spend a lot of money on them. However, in my experience, you get what you pay for! That's why I do my purchasing from this retailer. They have a variety of products, all of which are affordable, and their customer service is great! Shop for packaging supplies now.
When a customer asks : what's sublimation? What's the quickest easiest response ?
It's a tattoo for a shirt, it doesn't come off.
I tell them it's a specialty ink that dyes the fibers and/or substrate. Unlike vinyl or screen prints it cannot peel or fall off.
Sublimation dyes fabric and will not leave a texture or a raised surface. They will never crack or peel.
Download and Print this Sign to have up in your booth space.